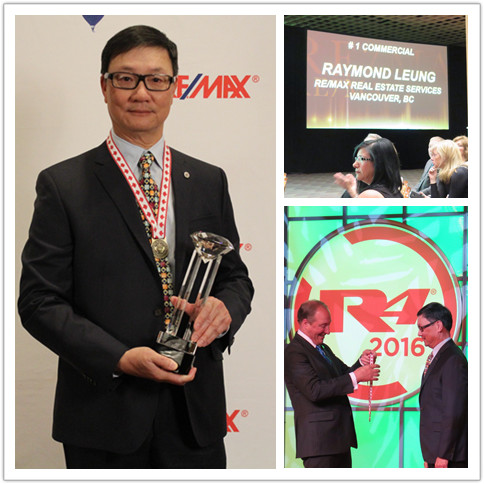 Congratulations to Raymond Leung.
He has been selected to receive the No.1 award at the Re/Max Western Canada Awards Ceremony.
2015 Production Winners
Top 5 Associates – Commercial
1 – Raymond Leung, RE/MAX Real Estate Services, Vancouver, BC
2 – Pete Vanderham, RE/MAX Medalta Real Estate, Medicine Hat, AB
3 – Peter Hall, RE/MAX Central, Burnaby, BC
4 – Noel Llewellyn, RE/MAX Commercial Advantage, Vancouver, BC
5 – Scott Predenchuk, RE/MAX Crown Real Estate – North, Regina, SK
About the RE/MAX network
RE/MAX was founded in 1973 by Dave and Gail Liniger, with an innovative, entrepreneurial culture affording its agents and franchisees the flexibility to operate their businesses with great independence.
Over 100,000 agents provide RE/MAX a global reach of nearly 100 countries.
RE/MAX, LLC, one of the world's leading franchisors of real estate brokerage services, is a wholly-owned subsidiary of RMCO, LLC, which is controlled and managed by RE/MAX Holdings, Inc. (NYSE:RMAX).
With a passion for the communities in which its agents live and work, RE/MAX is proud to have raised more than $150 million for Children's Miracle Network Hospitals® and other charities.